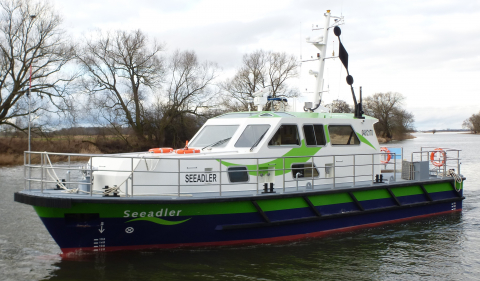 At the beginning of the year, STA Schiffstechnik und Anlagenbau GmbH in Bremerhaven ordered the modular and highly safe battery system EASy Marine® for the sounding and surveying ship "Seeadler". In the harbours of Bremen and Bremerhaven, the "Seeadler" surveys the bottom of the water, locates objects on the bottom and checks buildings that stand in or under water. The survey vessel, which is around 16 metres long and 5 metres wide, is operated by the port company Bremenports Gmbh.
"The order from STA shows once again that the EAS concept of safe and flexible ship batteries works," says EAS Head of Sales and Marketing Dr Frank Diehl. "We are proud to make shipping greener and more sustainable. But we are even more excited to make green shipping so extremely safe with Easy Marine." The modular battery system for the maritime industry is based on the highly safe cell chemistry lithium iron phosphate (LFP). And the modular design makes it possible to refit almost any ship with EASy-Marine® propulsion, adapted to the available spatial capacities. For the "Seeadler", EAS supplies the high-power battery with a system size of 120 kWh. It can be extended at any time. Also important for a survey vessel: The LFP-based EASy Marine® system complies with the latest ESTRIN standard for inland navigation, verified in the DNV certificate. 
The refit of the "Seeadler" will be carried out by Schiffswerft Hermann Barthel GmbH, which built the "Seeadler" for Bremenports in 2016, during a planned shipyard stay in the third quarter of 2022.